Not Just Any Van
Tuesday 16th October 2012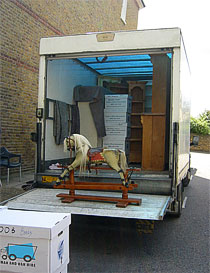 It's a daunting task when searching for an honest & reputable Man and Van service. So feel safe in the knowledge that you have found one of Londons finest. Here at Man and Van Hire.com We pride ourselves on our ability to understand you the customer and your needs. Very often we are called upon at the last minute by  desperate customer's who have been stood up or let down by let's say lesser reputable van men. It's always a pleasure to help out whenever possible on these occasions but don't leave things to chance, especially if you are moving home and on a tight schedule. Our service is also perfect when you need to safely transport across London any manner of single bulky item. Whether it be for household, office or business. Call us for free from any land line day or night on 0800 197 1448 and see how we can help, you will definitely not be disappointed.

About Greg Gregori
Starting trading as Man and Van Hire from North West London in 1999, gained all the valuable skills as a van man needed with the day to day running of a budget home or office removal service. Still have a very much hands on approach to my trade, now with a second branch in Truro,Cornwall.
View all posts by Greg Gregori →
Comments are closed.
---