← Older posts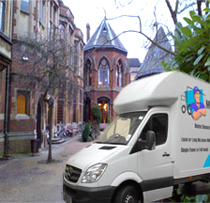 It's all academic for us here at Man and Van Hire. In the past week we have been commisioned to make deliveries for a social events organiser visiting a number of universities including King's College London, The London School of Economics, UCL , The University of Warwick and Oxford. An opportunity and certainly a real honour for us to rub shoulders with some of the nations most talented undergraduates and members of staff at The Oxford Union no less. Man and Van Hire is no stranger to the country's finest scholars, In the past student's and lecturers alike have also scored full marks calling upon us to transport their personal belongings to campus or digs. What ever you have to move from home that's too much for a cab or car then be smart and let us take care of your transportation. We do after all have a degree of knowledge in all things in need of moving. Make the grade and give us a call for a van with a learned and helpful driver.
---
Wednesday 2nd January 2013
Moving home from home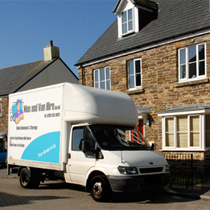 Make your next home move effortless with the help of Man and Van Hire. No matter how big or small the load you have to relocate, we have a van in London to suit your needs. We have vans all over London including Putney, Barnes and Fulham, Kensington & Chelsea.Home sharers especially are most welcome to take advantage of our budget priced home removal service, as are bigger family size moves. We can safley transport a wide range of possessions including the bulkiest of stuff too. All areas from London are covered, happy to travel any distance to your new location.
Were just one call away to discuss your requirements. Ring us on 020 8625 0078
Just need to move that single bulky piece of furniture? Then we are an ideal service for you too.
---
Thursday 6th December 2012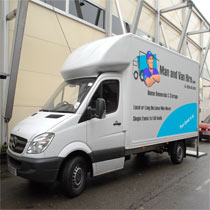 Trade Show Exhibitions and Events
If you are planning on showcasing your business, products or wares at any of the major exhibition halls or trade shows around the country then we can deliver. At Man and Van Hire we have years of experience in transporting clients goods and accessories to the show and back again, safely and on time. Olympia, Earls Court, Excel or the NEC in Birmingham we know our way around and how these venues operate during build up and breakdown periods. We are proud of our diverse and impressive list of regular exhibitors who come back to us year on year – from the world of art, fashion domestic goods, business services and computing. We are aware how important these trade shows are for our clients and the logistical challenges they pose. Rest assured we always do our utmost to ensure that your transportation requirements are taken care of. Professional high standards to which we always aspire guarantee's to get you to the show on time and stress free , leaving you and your colleagues to go out there and represent your company/product to it's full potential.
Call us with your requirements on 0208 625 0078
---
Tuesday 16th October 2012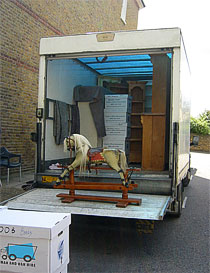 It's a daunting task when searching for an honest & reputable Man and Van service. So feel safe in the knowledge that you have found one of Londons finest. Here at Man and Van Hire.com We pride ourselves on our ability to understand you the customer and your needs. Very often we are called upon at the last minute by  desperate customer's who have been stood up or let down by let's say lesser reputable van men. It's always a pleasure to help out whenever possible on these occasions but don't leave things to chance, especially if you are moving home and on a tight schedule. Our service is also perfect when you need to safely transport across London any manner of single bulky item. Whether it be for household, office or business. Call us for free from any land line day or night on 0800 197 1448 and see how we can help, you will definitely not be disappointed.
Posted in
London
,
Man and Van
,
N2
,
North West London
,
NW1
,
NW3
,
Office
,
Removals
,
W1
,
W2
,
W3
,
West Central London
| Tagged
Courier
,
Man and Van
,
Mover
,
Removal Company
,
Removals
,
Storage
,
van
|
Leave a comment
---
Man and Van Harrow HA1
Situated just outside London's inner borders way up high and looking over most of London, Harrow on the Hill nestles inconspicuously in its gentille surrounding's to the rest of Harrow.
A few years back we was relocating a very nice family over a weekend from a rather splendid house. They had a table which was not needed at their new home so was instructed to take it up to St Marys (the old church which incidentally is located at the highest point of the hill). We was met by the vicar who if my memory serves me right was called Tim. Table delivered the Rev Tim invited us to stay for a cup of tea, it was a hot lazy afternoon in the middle of Summer and the last job of the day, the opportunity was too good to miss how can we refuse tea with the vicar, on a Sunday of all days? During polite conversation our atension turned to the churchyard, the kind Reverend offered to show us around and off we went cups of tea and biscuits in hand. 
A gentle stroll down a narrow path through a small wooded area led us to a clearing, greeting us there was spectacular views over London. The reverend then enlighten us further with a tour around the "Peachy Tomb" as a schoolboy at Harrow Lord Byron was a regular visitor to the spot and is immortalised in one of his writings.
Our thanks again to the Rev Tim for his hospitality and for a very interesting time spent working on the Hill. 
Need a Man and Van service over the weekend? Then we can help ( tea and biscuits not essential but nice if offered).        
Call us on 0208 625 0078 
---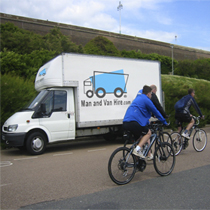 London to Brighton Bike Ride 2012
A big hand to all those who took part in the event last weekend. Our man and van was at the finishing line on Madeira Drive in Brighton again early last Sunday to pick up a quantity of bikes and return to London. Meanwhile the cyclist who completed the gruelling 57 mile ride took the train back to Clapham Junction meeting our van at the station to collect their bikes. Man and Van Hire.com has provided this service for the last four years on behalf of a corporate high street holiday booking company whose staff take part in the event every year.
Just one of the type of jobs a van man can be utilised when in need to transport a wide range of items. whether it's for a single large piece of furniture or kit to a full van load. Virtually anything you can think of, we can move it.
---
Van Man Goes for Gold
Moving in and around East London during this summers 2012 Olympic games will be a discipline worthy of a gold medal in its self. In the event of having no choice and you find yourself in the running for a winning transportation service, we can compete.When relocating  your home, office or a weighty piece of furniture close to The Olympic Park in Stratford, E20, don't be left on the starting block.We will endeavor to provide the same speedy service as always.With congested roads predicted we will strive to provide a fast and commendable removal service synchronized outside our normal working hours to suit you the customer. If you are planning on letting out rooms or property to accommodate some of the massive influx of people awaited and still in the race to refurbish properties then consider a top form Man and Van service like us for moving beds, sofas,wardrobes including white goods virtually anything too big for your car. 
Let the games commence!
Phone us on 0208 625 0078
Posted in
e20
,
East London
,
Removals
| Tagged
Bow
,
Bromley-by-Bow
,
East London
,
Homerton
,
Leyton
,
Man and Van
,
Mover
,
Newham
,
Olympic park
,
Removal Company
,
Removals
,
Storage
,
Stratford
|
Leave a comment
---
Man with a Van at your service.
Choose a better Man with a Van in London, relax and leave the heavy stuff to us. we truly are a no hassle van man transportation service. We provide a choice of van sizes complete with a helpful man, an expert driver and loader in your area. Our services are ideal for any size home or office removal in and around London, we also provide a handy mini moving service if you just need a single piece of furniture relocated. We are happy to undertake courier type multi drop  deliveries too including the transportation of exhibitor stands and wares for all your company business.
Feel free to call us on 0208 625 0078 and we will be happy to discuss your requirements.
Posted in
Balham
,
e1
,
e17
,
e2
,
East London
,
London
,
N2
,
North West London
,
NW3
,
South East London
,
South West London
,
W1
,
W2
,
W3
,
Walthamstow
,
West Central London
| Tagged
Aldgate
,
Barking
,
Bethnal Green
,
Bishopsgate
,
Bow
,
Bromley-by-Bow
,
Cambridge Heath
,
Camden
,
Chingford
,
City of Westminster
,
Clapham
,
Courier
,
Covent Garden
,
Ealing
,
East London
,
Epping Forest
,
Hackney
,
Haggerston
,
Kensington and Chelsea
,
Lambeth
,
Leyton
,
Lower Clapton
,
Man and Van
,
Mile End
,
Mover
,
Newham
,
Pimlico
,
Primrose Hill
,
Putney
,
Removal Company
,
Removals
,
Shadwell
,
Shoreditch
,
South Hackney
,
Spitalfields
,
Stepney
,
Tower Hamlets
,
Upper Clapton
,
Waltham Forest
,
walthamstow
,
Wandsworth
,
Whitechapel
|
Leave a comment
---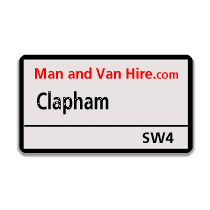 An expert removal man available for moving van loads in and around the Clapham Sw4 area. We deliver a handy, budget priced mini moving service for when you need to move possessions across town. Perfect for small home and office removals including bedsits, flats and house. Our service is not just for moving home we are happy to move single bulky furniture items bought from a store or on-line including students. Call any time from 8.30am till late and we can quote you are best possible price.
Call us on 0208 625 0078
---
A Quality Man and Van
Get your move started with a first class Man With a Van Company. Here at Man and Van Hire.com we strive on providing you the best service in and around the London Borough of Hammersmith & Fulham. We have a choice of van sizes to accommodate any size home or office removal, happy to travel any distance from London going long distance even Europe. We can transport just a single item of furniture whether purchased from a store or from auction.
Contact us on 0208 625 0078 for a free quote with no obligations.
Posted in
London
,
Man and Van
,
Removals
,
South West London
,
Storage
| Tagged
Brook Green
,
Fulham Broadway
,
London
,
Lots road
,
Man and Van
,
Man with a van
,
Mover
,
Munster
,
Parsons Green
,
Removal Company
,
Removals
,
Sands End
,
Storage
,
SW10
,
SW6
,
SW7
|
Leave a comment
---
← Older posts
---